RICOH Pro C7100/Pro can finish more types of print jobs in less time, which can cost less and use fewer resources. Keep more jobs in-house by taking advantage of intuitive controls, innovative five-color printing and incredible versatility. Handle more profitable on-demand, variable data print (VDP) jobs.

• Produce up to 90 color pages per minute for faster transitions between jobs
• Use the 5th color station to offer more types of output at a lower price point
• Create images with up to 1200 x 4800 dpi resolution to impress customers
• Print on more media, including traditional paper products, synthetics, envelopes, textures and more
• Share information quickly with advanced scanning capabilities


Xerox 700i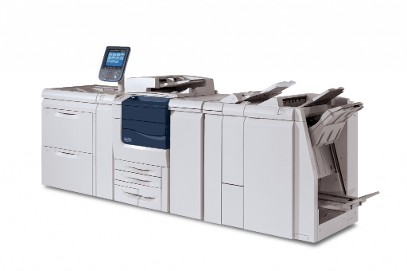 TheXerox 700i Digital Color Press delivers on all counts whether you're looking for new revenue opportunities or that ability to reduce costs.
It's the first true production capable printer that makes it easy to get started in digital production printing. The Xerox 700i delivers everything you need to capture your share of the explosive growth in digital color printing – outstanding image quality, excellent performance, complete versatility, effortless productivity, day-in, day-out reliability.
Xante Envelope Press
Xante way to go digital and meet the demand for fast full color letterhead, cards, envelopes, forms, brochures, mailers, labels, banners and more. This system is a high quality color envelope printer solution. The complete turn-key solutions allow you to print on a wider variety of media and sheet sizes, so you can produce more in-house, and on-demand. The system is driven by the included iQueue Prepress Workflow that makes it handle complex digital files, make critical color adjustments, apply screening, imposition and more.
•Best digital color envelope printer in the industry
•Lowest cost per print in the industry
•Prints on a wider variety of media and sheet sizes
•Higher print speeds (up to 78 full color #10 envelopes per minute*)
•Higher resolution (up to 2400)

The Xante prints on a variety of stocks including: Uncoated, coated, NCR multi-part forms, card stocks, textured stocks, label stocks and envelopes (Bar-4, Monarch, standard #10, window** and large color envelope printer solution). It offers multiple feed options including the new, patented Enterprise High Speed Feeder, two standard feed trays and an optional large capacity feed tray.